Weekend edition: The best of the week's reads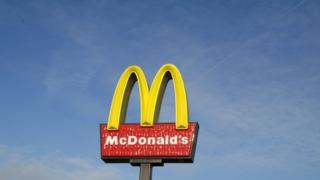 A collection of some of the best reads from the BBC News website this week, with an injection of your comments.
"This story makes me hungry" warns Ryan Smith on Facebook. It's about the world's most recognisable burger chain, which celebrated 60 years since the opening of its first franchise restaurant this week. It has been growing ever since, opening its first UK outlet in 1974. We set out to discover the working culture of the fast food behemoth.
What's it really like to work at McDonald's?
On the money
"As long as the money is legal tender I don't really care who's on our money" wrote Richard Mole on Facebook. He was responding to our piece on banknotes, which analysed which countries feature more men than women. Although Norway has removed people altogether, using nautical designs instead, countries such as the US have no female representatives at all. Australia and Sweden both fare better, using money which represents each gender equally.
Which country has the least sexist banknotes?
Majority verdict
"Not sure what Emily Pankhurst would have to say about this" tweeted Roisin Brown. We looked at the much heralded "women's vote" and whether it actually exists. "Personally, I find the term patronising" wrote Emma Robinson. Attempts to lump all female voters together have proved misguided although both sexes do approach politics differently. Polls which indicate women make up their mind later than men make them prime candidates to be targeted by politicians.
Is there really such a thing as 'the women's vote'?
David's war
"That there, mate, is a true officer and gentleman" according to Clarence Erickson on Twitter. David Clemetson, just 20 when he joined at the outbreak of World War One in 1914, became an officer a year later despite the provisions in the 1914 Manual of Military Law which barred, what it called "negroes and or persons of colour" from holding rank above sergeant. The Jamaican, who had been a law student at Cambridge before enlisting, was killed just 52 days before the end of the war.
The officer who refused to lie about being black
Big bucks
"It would keep me going for a few weeks!" posted Gary Gardner on Facebook. He's talking, of course, about what you could buy for one billion pounds. Free school meals could be provided for 2.5m children. More than 16,000 social homes could be built. Alternatively, 26,000 nurses could be employed. Either way it's a dizzying sum of money, which has been given an increasingly central role as a result of decades of economic growth and inflation.
Enjoyable reads from elsewhere
Why I can't look back on the sexist 70s with kindness - The Guardian
What Russians really think - Financial Times
Moving to Mars - New Yorker
One to watch
Why I asked Anne Robinson to watch porn with me - The Guardian
Subscribe to the BBC News Magazine's email newsletter to get articles sent to your inbox