Caption Challenge: Space capsule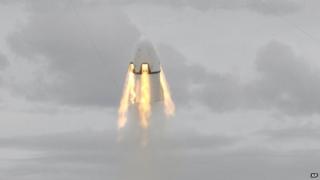 Winning entries in the Caption Challenge.
The competition is now closed.
This week a space capsule is tested.
Thanks to all who entered. The prize of a small amount of kudos to the following:
6. Dave Howard: The long-awaited Sinclair C6 expected to break sound barrier.
5. Candace: "I've finally got a signal!"
4. Colin Watts: "Okay, so that's what the red button does..."
3. Peter Jones: The new Vicks inhaler is their most powerful ever.
2. Susan Wood: Overzealous heating supply causes havoc for igloo owners.
1. Horsgood: "We should have used a normal shuttlecock."
Full rules can be seen here
[16KB]
Follow @BBCNewsMagazine on Twitter and on Facebook