Weekend Edition: The week's best reads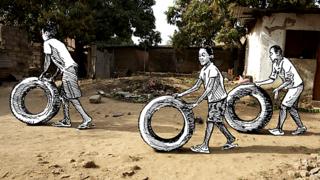 A collection of some of the best features from the BBC News website this week, with an injection of your comments.
"This is so cool," tweeted Belinda Otas. "Powerful graphic novel... well worth a look," posted Alex Murphy. Hooked illustrates the impact of the international drugs trade on a young man in Guinea-Bissau. His country in West Africa has been a hub for drug dealers for nearly a decade. Hit by military coups and poverty, it's used by South American cartels as a route to smuggle cocaine to Europe.
Making cartoons that tell serious stories
Paved over
"Who wants to waste time and energy mowing/tending front lawns every weekend?" commented Tim Jones. The scramble to cement our front gardens is in full swing, with the number of lawns paved over in the past 10 years having tripled. It reflects people's changing attitudes towards spending time maintaining the greenery outside their homes.
The decline of the British front garden
Long wait
"When customer experience fails you, stitch your own bank card!" tweeted Gordon O'Neill . That's exactly what Keith Clark did after becoming exasperated by the time taken for Santander to post him a new one. And people are loving the idea. We speak to the man behind it, whose cross-stitch creations usually feature R&B stars and DJs.
The man who cross-stitched his own bank card
Quiet Zone
"I live just a few miles away from this site. I never knew it existed," posted James Reynolds. He's referring to the National Radio Quiet Zone, a place where mobile phones are banned - it covers 13,000 square miles (34,000 sq km) to the west of Washington DC. It's home to the planet's largest land-based movable object, the Robert C Byrd Green Bank Telescope, which needs total radio silence so that it can listen to signals from space.
The Quiet Zone: Where mobile phones are banned
Dear dad
"I hope my kids remember to pass me my harmonica," posted Chris Morris. When Mark Seymour did this for his dad Ronnie, then in the latter stages of Alzheimer's Disease, it made things better - just for a bit. Ronnie got some of his old sparkle back, as he played God Save the Queen from memory, reminding his family of the man he'd once been. Mark photographed this, amid the inevitable scenes of Ronnie's decline. "I wanted to show what a kind and wonderful man my father was and what Alzheimer's does to a person," he writes.
Living with Alzheimer's: A harmonica for Ronnie
Enjoyable reads from elsewhere
Poor Little Rich Women - New York Times
5 Reasons Why Facebook Can Be Dangerous for People With Depression - Huffington Post
Subscribe to the BBC News Magazine's email newsletter to get articles sent to your inbox