Germany: Trabants 'becoming collectors' items'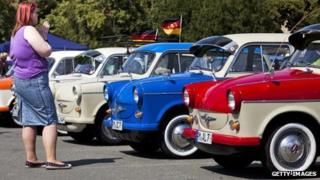 Communist East Germany's famously unreliable mass-produced car - the Trabant - has become fashionable, it appears.
"The hour of collectors and sentimentalists has come," declares the daily Die Welt, pointing out that a growing number of Germans are hanging on to the Cold War relics. It sees an end to the phenomenal decline in the marque's numbers since German reunification, pointing out that in January more than 32,000 were still on the road.
Given the car was so often the butt of jokes, the paper believes its continued appeal cannot lie in its qualities but must be the result of "deep sentiment". "Those who still have a Trabi really want one," the paper says, adding that devotees are prepared to pay more than 5,000 euros (£4,290) for a well-preserved model. More than three million Trabants were built between 1957 and 1991.