Zambia: Minister insists president 'not dead'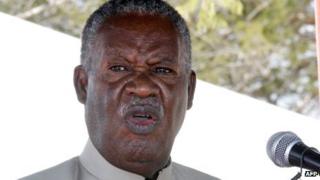 Zambia has taken the unusual step of confirming its president is alive and well, it's reported.
News websites in the southern African state have been questioning the health and whereabouts of 76-year-old Michael Sata, who's not been seen in public for weeks. As far back as May, Zambia Reports was challenging the president to prove he had not "sub-let his presidential powers" to aides. Rumours abounded that he'd left the country for treatment and, last week, the Zambian Watchdog website reported that Sata "may be in hospital somewhere". It added: "If he is alive."
However, on Friday, Zambia Reports quoted Information Minister Kennedy Sakeni as saying: "I was with [Sata] a while ago; he is well and in high spirits. He is having meetings in State House." The site reckons it's reminiscent of a 2006 statement that then-president Levy Mwanawasa was jogging in London, when he was actually recovering from a stroke. Investigations have had serious consequences for journalists, with two Zambian Watchdog reporters charged with sedition - criticism of the government - after reportedly being accused of possessing notes for Sata's obituary.
Use #NewsfromElsewhere to stay up-to-date with our reports via Twitter.