South Korea: 'Celebrity' army unit 'axed'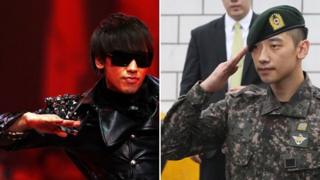 A South Korean military unit of "celebrity squaddies" is to be abolished amid criticism over perceived lack of commitment, it seems.
Since 1997, "entertainment soldiers" from the Defense Media Agency have made TV and radio programmes to paint the military in a positive light, according to Seoul's Yonhap news agency. It's been a frequent route for young "K-Pop" stars in a country where all men must serve two years in the forces, or three in public service. But the unit's come under scrutiny recently, notably last month when several celebrity soldiers were filmed drinking and visiting massage parlours after a provincial concert.
"We feel a grave responsibility for the lax management of the Defense Media Agency and decided to scrap it in light of the audit results," Yonhap quoted the ministry as saying. The most high-profile incident involved K-Pop singer Rain, who was found to have broken rules in January, after photos surfaced of him meeting an actress. Years earlier, Gangnam Style singer Psy was made to repeat his service after being accused of neglecting his duties. The unit's scrapping comes days after reports suggested the sons of officers were among those most likely to avoid service.
Use #NewsfromElsewhere to stay up-to-date with our reports via Twitter.