Hong Kong: Shoppers angry with heat-sensitive spying systems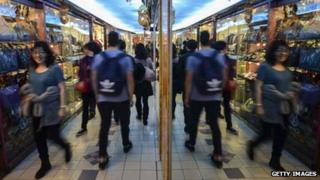 Stores in Hong Kong are secretly monitoring customers with state-of-the-art, heat-sensitive systems to check on their buying habits, it's been reported.
Hi-tech cameras are being used to watch customer movements in order to find the busiest areas of a store by creating a multi-coloured heat-map, the South China Morning Post reports. The upshot is that managers are able to rearrange shop layout to make customers spend more. Privacy campaigners aren't convinced by this argument and say that the system violates shoppers' rights because it uses their data without their knowledge and with no way of opting out. The company that provides the system defends its use, saying that the people it films are never identified.
Sixteen years after the colony was returned to Chinese rule, privacy and surveillance in Hong Kong remains a sensitive issue. The strict new Personal Data Privacy Ordinance came into force this year after it emerged that passengers using the city's mass transit system found their personal data sold to other companies.
Use #NewsfromElsewhere to stay up-to-date with our reports via Twitter.