Russia: Pagan punished for felling cross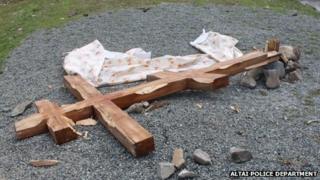 A self-proclaimed "shaman" witchdoctor from southern Siberia has been sentenced to an 18-month curfew for cutting down an Orthodox Christian cross.
Valery Chekonov felled the wooden cross a year ago in a village in the Altai Mountains. The cross commemorated the men who died building the main road from Russia to Mongolia.
Mr Chekonov told the court he mistook it for a hitching post for horses and chopped it down as a traffic hazard, but prosecutors said he "felled the cross, stamped on it and hit it with an axe several times" out of religious hatred.
The court decided Mr Chekonov should be confined to his home at night and not allowed to leave the district or attend public events without telling the police, Russia's NTV channel reported.
Mr Chekonov has been in trouble with the law before. Last October he was sentenced to community service for inflammatory preaching, and in January a court condemned nine articles in his Amadu Altai newspaper for expressing hatred of the locally predominant Buddhist religion.
Use #NewsfromElsewhere to stay up-to-date with our reports via Twitter.