Nigeria: Polling booths in 'evil forests and candidates homes'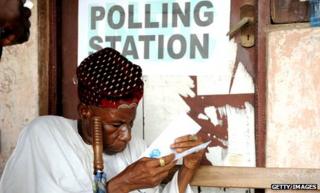 Polling stations in Nigeria were located in hard-to-access places like shrines, thick forests or even politicians' homes, in a bid to swing the last election.
So says the country's electoral chief, who's ordering all polling units to be placed in public spaces in future, reports suggest. Attahiru Jega says that - despite the obstacles - 73.5 million people still registered to vote in the 2011 election. The population is 167 million. "No polling unit should exist in a shrine or forest; [they] are just there to help some people win elections," Punch newspaper quotes Jega telling local electoral officials.
The issue was also previously raised by electoral officials in south-western Anambra State, who argued that the practice aimed to prevent certain groups of voters from casting their ballots. "There is no way women and Christians will vote in shrines or evil forests," one of them said, according to the Nigerian Telegraph. Violence flared after President Goodluck Jonathan's 2011 election victory, amid accusations of rigging in the south, although observers said it was the fairest election for decades. Even so, in 2012, Nigeria was ranked 139th out of 174 countries in campaign group Transparency International's Corruption Perceptions Index.
Use #NewsfromElsewhere to stay up-to-date with our reports via Twitter.