Iran: Row over 'Ayatollah's joke'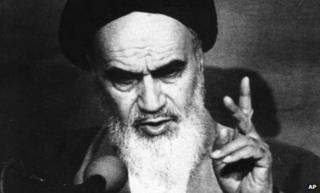 A row's flared up over whether Ayatollah Khomeini cracked jokes about widows of "martyrs" during the Iran-Iraq war.
It was sparked by a post on the Facebook page of his granddaughter, Na'imeh Eshraqi, which read: "Another joke told by Imam Khomeini and remembered by us is - '(Islamic) Revolutionary Guards! Marry a martyr's widow!... I wish I were a revolutionary guard!'" Blogger Tarikh DarTasvir summed up the response, writing: "Mrs Na'imeh, our brave men were killed for you! Why are you telling jokes about their wives?" Another wrote on observers.france24.com: "The most objectionable thing... is that while many young Iranians were at war, Ayatollah Khomeini was telling jokes like this."
Khomeini, who led the 1979 Islamic revolution which unseated Iran's shah, was in power during the 1980-88 war and died a year after the ceasefire. One official told Conservative website Tasnim: "We expect Imam Khomeini's family to respect him more than others. The imam was a wise and educated person and such remarks will not tarnish his dignity." Eshraqi later deactivated her Facebook account and released a statement via Fars news agency saying: "I deny the post referred to (as being written by) me". It didn't stop students planning protests after Friday prayers, conservative news site Dana reports.
Use #NewsfromElsewhere to stay up-to-date with our reports via Twitter.