Georgia: Drama after Depardieu visit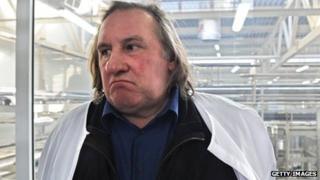 A flying visit to Georgia by actor Gerard Depardieu is being investigated by authorities in the former Soviet republic, reports suggest.
The star, who turned his back on his homeland to become a Russian citizen in protest at French President Francois Hollande's tax policies, apparently had lunch in Tbilisi on Sunday. Photos purporting to show him with restaurant staff have been published online. But Russian news agency Interfax recalls reports over the summer suggesting that Depardieu violated Georgia's Law On Occupied Territories by visiting the breakaway republic of Abkhazia. That offence carries a fine or up to four years' imprisonment. But, Interfax says, the Count of Monte Cristo actor was not detained at Tbilisi airport this week because he had no Abkhaz stamp in his passport.
Georgia's Rustavi-2 TV reports that Justice Minister Tea Tsulukiani is investigating the incident. But she's quoted as saying: "Gerard Depardieu is not a person in relation to whom Georgia or any other country can make hasty decisions." Once a Soviet holiday destination, Abkhazia declared independence in 1999 but Georgia still regards it as its territory. Moscow formally recognised its independence nine years later, following the Russian-Georgian war over South Ossetia, and has since invested in the territory, stationing anti-aircraft missiles there.
Use #NewsfromElsewhere to stay up-to-date with our reports via Twitter.