Mexico: Crime gang 'bans tortillas'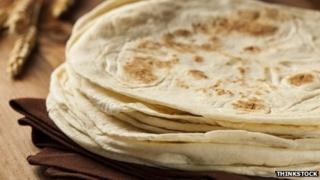 A criminal gang has banned the sale of tortillas in one Mexican city, reports suggest.
The Bishop of Apatzingan is quoted as saying the drug traffickers are so powerful they've stopped the sale of the nation's staple food in his area. "There is a commander... who says that no tortillas will be sold in this area and no tortillas are sold, just because one man says [so]," Miguel Patino Velazquez reportedly told Noticias MVS. Apparently, some areas haven't had petrol supplies for months because of a similar diktat.
A more deadly symbol of the groups' power, however, has been the killing of five priests in the surrounding Tierra Caliente region, according to the Guerra Contra el Narco (War Against Drugs) blog. Authorities there have been criticized for failing to ensure the safety of the population and access to basic services. Thousands of people are killed every year in violence involving Mexico's powerful drugs cartels. This number spiralled despite ex-President Felipe Calderon's high-profile campaign against gang leaders, which was undermined by gangs colluding with the security forces. His successor Enrique Pena Nieto has switched focus to try to tackle violence on a neighbourhood level, setting up a new gendarmerie to take over from troops.
Use #NewsfromElsewhere to stay up-to-date with our reports via Twitter.