Uruguay: Falklands vessel ban 'costs $60m'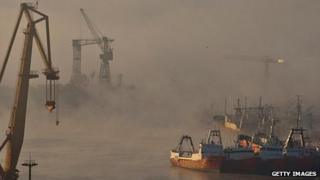 A decision to ban Falkland Islands-flagged vessels from docking at Montevideo has cost Uruguay $60m (£38m), it's suggested.
It's nearly two years since the South American Mercosur group, which also includes Brazil, Argentina and Paraguay, banned the 25-strong Falklands fleet of mostly fishing vessels from its ports. But the decision - taken in solidarity with Buenos Aires, which has long claimed sovereignty over the islands it calls Las Malvinas - has cost jobs, according to former national ports official quoted in MercoPress website. "Each of those Falklands-flagged vessels... represented $900,000 in direct income" given that each vessel used to visit up to four times, Jose Pedro Pollak is quoted as saying.
But, he added, "Because of ideological solidarity, several Uruguayan families have lost jobs and an estimated $60m per annum are lost to some other ports." Relations between Uruguay and Argentina have been strained in recent weeks, since Montevideo approved increased pulp mill production, which some Argentines say increases pollution in the Uruguay River that marks the border between the two countries. Buenos Aires then stopped freight transfers at ports in Mercosur countries, like Uruguay, with which it has no trade agreement. The move is said to have cost Uruguay up to $100m.
Use #NewsfromElsewhere to stay up-to-date with our reports via Twitter.