Altered Images: How to verify photos of current events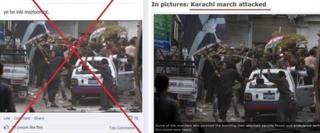 After eight people died in sectarian clashes in Pakistan a week ago, photos circulated on social media purporting to show the violence. These were soon called into question.
Violence erupted last Friday as Shia Muslims staged a procession marking the religious festival of Ashura in Rawalpindi, near the capital Islamabad. Dozens were injured and many shops set on fire in clashes between Sunni and Shia Muslims.
Images said to show the violent clashes were shared online. One shared on Facebook was captioned "This is them being oppressed". But it was an Associated Press photograph from 2009, taken in the aftermath of a suicide bombing in Karachi, and featured in a BBC News picture gallery at the time.
Blogger Syed Farrukh Abbas spotted the similarity and tweeted: "Fake Image Exposed #Takfir Supporters Were Spreading This Pic to Blame Shias But this Pic is From #Karachi 2009." Journalist Taha Siddiqui tweeted about a news page on the Pakistani social network Pring sharing "brutal pics from elsewhere in world, claiming them to be from #Rawalpindi".
The government has now ordered a crackdown on those seeking to "propagate sectarianism via social media or mobile phones", the Express Tribune reports.
With smartphone use widespread, images of unfolding events quickly fill social media networks. While many are genuine, it is not uncommon for a picture depicting something else entirely to be passed off as documenting a protest, a natural disaster or other event.
BBC News receives photos every day from people across the world, many purporting to show unfolding events. Trushar Barot, of the BBC's user generated content team, says there are two aspects to verifying whether images are genuine - technical checks and editorial judgement.
"There are several tools we use to help us assess image data, including whether an image is an original or whether it has been manipulated digitally. We'll also look for visual clues that we can cross reference, for example the weather, the location, number plates, signs, language and so on. We do reverse image searches to see if the images appear elsewhere on the web to help us track their origin.
"Editorially, we'll start from a point of scepticism, posing the question 'Is this image too good to be true?' We'll analyse the context of the image and the motives behind why it might have been uploaded on the web at that time. We will also seek to cross-reference what the image purports to show against official or verified sources, such as news agencies or with our own teams on the ground."
Use #NewsfromElsewhere to stay up-to-date with our reports via Twitter.