China: Recruiting 'Top Gun' pilots online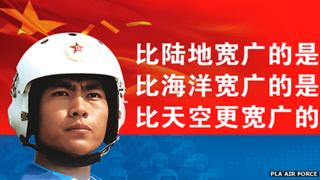 The Chinese air force has opened a website to allow prospective pilots to submit their applications online, it's reported.
The Air Force Pilot Recruitment Net website, complete with pictures of determined young men and women in People's Liberation Army air force uniforms, shows how to apply for a job, the location of recruitment centres and photographs of China's cutting edge fighter aircraft and drones. The state-owned People's Daily newspaper says high school graduates under the age of 19 and military college graduates under the age of 24 are eligible for recruitment. Those who pass the selection process attend the Aviation University of Air Force in north-east China's Jilin province.
The PLA air force reportedly has a strength of about 400,000 personnel. A 2010 US Air Force study concluded that it is currently undergoing a transition to hi-tech aircraft from a previous philosophy of defence-in-depth (multi-layered ) as its national security agenda changes. People's Daily does not mention if any gender bars are in place, but the recruitment website shows both male and female candidates in uniform.
Use #NewsfromElsewhere to stay up-to-date with our reports via Twitter.