Italy: 'Sinner' Pope goes to confession fortnightly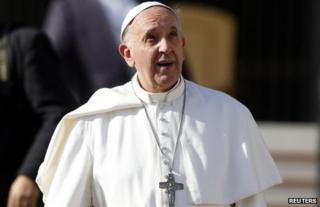 Pope Francis has told Catholic believers he goes to confession at least every two weeks because he too is "a sinner".
He made the remarks at his weekly general audience in St Peter's Square, reports the Vatican newspaper L'Osservatore Romano. "Priests, too, need confession, even bishops. We are all sinners. Even the Pope goes to confession every two weeks because the Pope, too, is a sinner," he told the assembled flock. "My confessor hears what I say, offers me advice and forgives me."
The paper says Pope Francis, who leads the world's 1.2 billion Roman Catholics, was reminding his audience of the importance of the sacrament of reconciliation and of the role of a priest in administering it. The Vatican newspaper does not mention who the Pope's confessor is, nor what his penance might involve.
Use #NewsfromElsewhere to stay up-to-date with our reports via Twitter.