Switzerland: 8,000-hour search for tree-killing beetle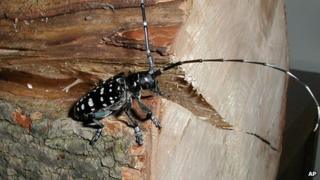 Specialist tree climbers have been roped in to help Swiss authorities eliminate the Asian longhorn beetle, an exotic tree-killing pest, it seems.
The climbers, supported by sniffer dogs, checked 1,600 trees in an 8,000-hour search covering a 150-hectare zone in Winterthur, northern Switzerland. They found 11 larvae on five trees, the Tages-Anzeiger daily reports. This means the forest workers will have their work cut out for several years as the monitoring period has been extended to at least 2017.
In addition to the five affected trees, 60 more will be felled during winter as a precautionary measure. Oaks, which are less susceptible to the beetle, are due to be planted to replace trees cut down in a previous cull in the area.
Since 2011, seven Swiss cantons have reported sightings of the beetle, but the infestation in Winterthur is apparently the biggest. The wood-boring insects have no natural predators outside their natural habitats in Japan, eastern China and Korea. After being accidentally introduced into the US and parts of Europe, including Britain, eradication measures have led to the loss of tens of thousands of mature trees.
Use #NewsfromElsewhere to stay up-to-date with our reports via Twitter.