Kazakhstan: Subway weightlifting to mark President's Day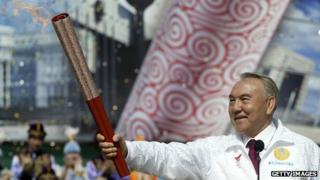 Barbells and other fitness equipment will be installed in several subway stations in Kazakhstan's largest city so commuters can mark President's Day with feats of strength, it's reported.
Almaty's metro company has invited passengers to try their hand at weightlifting contests, the Novosti Kazakhstana news website says. The transport firm is apparently confident that the tournaments will not hold up the flow of commuters.
Sports competitions - including wrestling, horse racing, a local version of polo, tug-of-war and cockfights - are a centuries-old way of marking festive occasions in Central Asia.
This particular holiday is relatively new. It was first observed on 1 December last year to mark the anniversary of President Nursultan Nazarbayev's taking office in 1991, the year Kazakhstan declared its independence from the Soviet Union. Nazarbayev has run the country ever since, and some people now accuse him of encouraging a personality cult. Ahead of President's Day, some 3,000 students are planning to "declare their love and respect" for him at a ceremony in the capital, Astana, the Total.kz news website reports.
Use #NewsfromElsewhere to stay up-to-date with our reports via Twitter.