Altered Images: Russian PM in bunny ears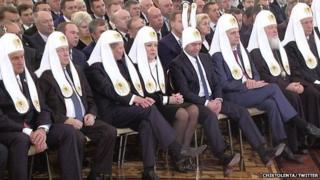 Spoof photos of Dmitriy Medvedev in bunny ears at an official event are the latest sign the Russian prime minister is increasingly marginalised, it appears.
As President Vladimir Putin defended his conservative values and anti-gay stance in Thursday's state-of-the-nation address, some social media users mocked Medvedev for apparently dozing off, flanked by the speakers of both houses of Russia's parliament.
One augmented image, posted by ChistoLenta on Twitter, added Orthodox bishop mitres to the VIPs sitting in the front row - a nod to the power of religious conservatism that apparently drives government policy. Only church leader Patriarch Kirill's headwear appears to be genuine.
ChistoLenta is a popular satirical account by someone claiming to be a cleaner at the Moscow-based Lenta news website. In a subsequent tweet, ChistoLenta explains the idea behind the image: "Our prime [minister] asleep during the performance of our president. Since everyone is laughing at him, I have attached him bunny ears." He also says he gave the front row hats like Kirill's "because they are patriarchs. Besides our prime minister."
BBC Monitoring's Russian analyst Stephen Ennis says Medvedev's star is falling in Russian public life. He's been openly criticised on state-owned television, a medium that usually brooks no dissent of the country's leaders. A recent opinion poll asking who voters would back if a presidential election were to be held the next day gave Medvedev just 1% of the country's backing, compared to 24% two years ago. The Putin-Medvedev tandem "is gradually passing into history", says heavyweight Russian newspaper Nezavisimaya Gazeta. Ennis agrees, adding he's widely tipped to be replaced in the future.
Patriarch Kirill himself is no stranger to photo manipulation, with the Russian Orthodox Church apologising last year for airbrushing an expensive watch out of a photo of the church leader.
Use #NewsfromElsewhere to stay up-to-date with our reports via Twitter.