Saudi Arabia: Bumper booze haul at border crossing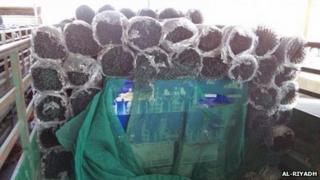 Smugglers have fallen foul of Saudi customs officers, who foiled their attempt to smuggle nearly 12,000 bottles of wine into the kingdom in one go.
Officers at the Batha border crossing said they found the huge haul - 11,973 bottles, to be precise - loaded in a lorry, Al-Riyadh newspaper reports. The acting director of the customs post, Eid Al-Enizi, told reporters that the smugglers were attempting to spirit the wine in from the neighbouring United Arab Emirates, where restrictions on alcohol are laxer.
He said the smugglers were "most artful" in wrapping the bottles in bales of wire fencing, which the customs men had been obliged to unroll fully before they could get at the contraband. Al-Enizi said border guards have stepped up efforts to stop smugglers lately as part of a general increase in border security.
Saudi Arabia has a total ban on alcohol, and being caught drinking it can be punished by a public lashing.
Use #NewsfromElsewhere to stay up-to-date with our reports via Twitter.