Uganda: Villagers call for border change to join Rwanda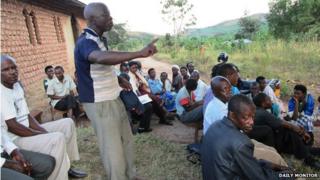 Villagers in two southern Ugandan communities are calling for the border to be redrawn so they can become part of Rwanda, it appears.
Residents say the villages of Nshenyi and Kyarwehunde have been forgotten by Ugandan authorities and lack basic services such as schools, water and roads. But down the road in Rwanda those amenities are widely available, the Daily Monitor newspaper reports.
"We have been ignored because of our location," one Kyarwehunde councillor told the newspaper. "We live in Uganda and get everything from Rwanda. We need to be part of Rwanda." Ugandan officials have responded by promising to invest in the area, and say the villagers shouldn't be so hasty with their demands to secede.
District chairman Denis Singahache says: "We know the challenges they face... they have no water and rains rarely come. We shall do what we can, repair the roads and possibly fix in the budget provision for water."
Use #NewsfromElsewhere to stay up-to-date with our reports via Twitter.