Iranian social media amused at Olympic cover-up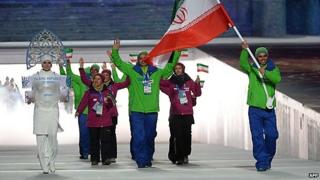 Iranian social media users have mocked the decision to cover-up the Russian Snow Maiden who escorted Iran's team in the Sochi Winter Olympics opening ceremony.
Iran is notorious for altering images of foreign women in line with Islamic rules of modesty, but web users were surprised to see the principle put into practice at the Parade of Nations. The other Snow Maidens wore short split skirts, but Iran's escort had an ankle-hugging outfit underneath.
Sajjad Salek wrote on Facebook that this was the "outcome of the brave Iranian people's heroic anti-arrogance battles against Fernanda Lima". The statement was referring to Iranian state TV's interruption of the live World Cup draw last December, allegedly over the skimpy outfit worn by the Brazilian actress. "They were worried the Iranian athletes would faint if they saw the escort's legs," added Mojtaba Gholami. Sharq news website recalled that Ms Lima's Facebook page filled with pro- and anti-censorship comments from Iranians at the time.
Others thought Russia was trying to curry favour with the Iranian authorities. "Watching the Winter Olympic opening ceremony, I found signs that our revolution has been exported. What an honour!" wrote Omid Memarian on Facebook. "Iran's hijab-wearing escort at Sochi shows how much friendly, fraternal Russia cares about us," tweeted 'Osamehhp'. Khodnevis website agreed: "These Russians will do anything to sell their useless military and other goods to Iran. They'd force all the women in the stadium to wear veils, if it came to that".
Use #NewsfromElsewhere to stay up-to-date with our reports via Twitter.