Germany: Group helps people quit the far right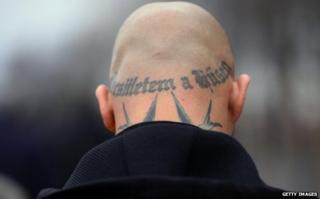 A German organisation says its mission is to help people leave far-right groups in the face of blackmail or direct threats, and return to a "normal" life, it appears.
One woman, named "Sabine", says she approached the support group EXIT after her neo-Nazi husband threatened to kill her and her children and blow up their house, German international broadcaster Deutsche Welle reports. Eventually, Sabine had to move to another city under a new name to start a new life.
Sabine says she was a member of the National Democratic Party (NPD) and another far-right group that is now banned. But rising violence in the movement motivated her to quit: "Weapons played a greater role, and we considered possible attacks," Sabine says, "Add to that domestic violence against women - that happens a lot in Nazi circles."
EXIT's founder Bernd Wagner says leaving an extremist group requires courage. The former police officer says the more militant the group, the harder it can be to help people wanting to leave. The best way is to keep a low profile and ask groups such as his for assistance, he says.
Wagner says EXIT has helped 500 people since 2000, but it does not have a 100% success rate. Eleven people who sought help returned to far-right groups, became Islamists or left-wing radicals. Two ended up dealing in drugs, he says.
In December, Germany launched an attempt to outlaw the NPD, amid concerns over the increasing influence of neo-Nazi groups in the country. But there are doubts any proposed ban would significantly curb the country's violent far-right scene, Der Spiegel reported at the time.
Use #NewsfromElsewhere to stay up-to-date with our reports via Twitter.