Saudi Arabia: Eight-hour jams for commuters to Bahrain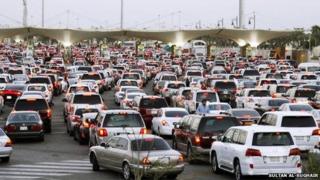 Thousands of commuters are facing eight-hour traffic jams while crossing a 16-mile (26km) causeway linking Saudi Arabia to the island of Bahrain, it's been reported.
Queues last well into the night, and officials admit there's no end in sight, the Arab News reports. When Saudi authorities investigated, they found there are not enough customs officials on the border to cope with the tens of thousands of people trying to cross every day - but this has led to a falling out between the Traffic Department and the Passport Department, which blame each other for the gridlock.
Saudi traffic police say they do their best to keep the queues moving, issuing around 90 fines every day, including 20 for parking violations. Police also say they are making daily arrests of illegal taxi drivers transporting people between the two countries.
The King Fahd Causeway, which opened in 1986, is a vital link between the two kingdoms. It's particularly popular with Saudis going to Bahrain for work, or to visit the island's shopping malls, the Arabian Business website reported. A record 100,000 travellers crossed the border last July.
Use #NewsfromElsewhere to stay up-to-date with our reports via Twitter.