France: Driver 'tries to park' in metro station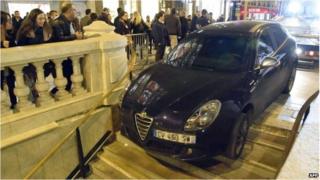 A driver in Paris has driven his car down the steps of a busy metro station, after apparently confusing it for the entrance of a car park.
The unnamed man turned off Avenue Champs Elysees in central Paris and drove a short distance along the pavement, towards what he thought was an underground parking facility. It was only when he started driving down the first steps of the entrance that he realised it was actually a metro station, says newspaper Le Parisien.
It is not clear whether anyone was injured as a result of the confusion, or whether alcohol was a factor. But photos taken at the scene show onlookers laughing and some people reportedly had to scramble around the car to exit the station.
Parking gaffes of this sort are not entirely unheard of in Paris. In 2012, another driver seems to have made a similar mistake.
Use #NewsfromElsewhere to stay up-to-date with our reports via Twitter.