China: Outdoor grills banned in Beijing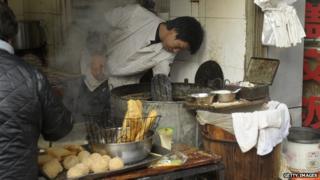 Beijing authorities are banning popular outdoor grills amid fears of rising pollution, it is reported.
From Thursday, people will have to cook inside or face a fine of up to 20,000 yuan (£1,900, $3,200) under a government directive, The Beijinger website says. In fact, local authorities have said they will also ban "food preparation, or the sale of other foods" - threatening the popular food stalls that line Beijing's streets in warmer months.
The ban is apparently being put in place to tackle Beijing's persistent smog. But there are doubts over how much a barbecue ban will help, and one website says the crackdown was part of Beijing's campaign to "blame pollution on everything except cars or coal". A similar ban was also considered in 2013 and some 500 barbecues were destroyed in a move that was later described as "meaningless".
China's rapid industrial development in recent decades has led to a serious pollution problem. In February 2014, particulate readings in Beijing soared to 15 times the recommended safe limits - reaching "orange" levels, the second-highest possible.
Use #NewsfromElsewhere to stay up-to-date with our reports via Twitter.