Thailand: Junta promotes free concerts and haircuts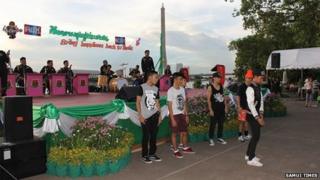 Thailand's ruling military council says it is putting on army band concerts that feature free haircuts and desserts for "happy-looking audiences" as part of a campaign to restore the country's reputation as a "Land of Smiles" after seizing power last month.
It's all part of a campaign to win over the public, reports the Samui Times newspaper, which also saw cavalry troops collecting litter from the area around central Bangkok's Victory Monument - the scene of anti-army protests last week. The country's new leader, General Prayuth Chan-ocha, insisted the recent political changes were something to cheer, saying: "The Thai people, like me, have probably not been happy for nine years, but since May 22, there is happiness," in a speech at the end of May.
From Friday the junta - called the National Council for Peace and Order (NCPO) - will air a weekly television programme to "answer people's questions" about the military government, spokesman Colonel Winthai Suwaree says. He justified the continuing crackdown on political opponents - which has seen hundreds of people detained and the media censored - saying, "Although those who disagree with the NCPO's ways are few, they affect the NCPO's mission to return happiness to the country."
Use #NewsfromElsewhere to stay up-to-date with our reports via Twitter.