Mounts Everest and Fuji team up to tackle rubbish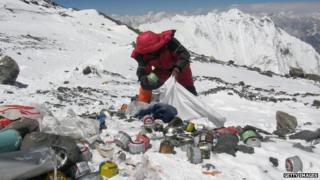 Everest, the world's highest mountain, is now a "sister peak" of Japan's iconic Mount Fuji in a scheme to preserve their endangered ecosystems.
A joint clean-up of the peaks will begin in the spring, Japan's Asahi Shimbun newspaper reports, after mountaineering associations from Japan and Nepal signed an agreement in Tokyo. Ang Tshering Sherpa of the Nepal Mountaineering Association says this would coincide with planting trees in the Himalayan foothills to prevent the sort of avalanches that killed 13 sherpa guides and left three missing in April.
Meanwhile, celebrated Japanese mountaineer Ken Noguchi has raised $100,000 (£60,000) through his Seven Summits Actions for Sustainable Society to help the families of the sherpas, Nepal's eKantipur news portal says, and this helped spur the latest collaboration.
Japan is studying Nepal's approach to tackling the problem of rubbish left on the slopes - it's expecting to see a surge in visitors after Mount Fuji was declared a UNESCO World Heritage site last year. All climbers on Everest must collect 8kg (18lb) of rubbish on their way down, and the volunteers of Japan's Fujisan Club have picked up 60 tonnes of trash from Mount Fuji each year for the last decade, Japan's Manaichi Shimbun newspaper reports.
Use #NewsfromElsewhere to stay up-to-date with our reports via Twitter.