Italy: TV ad tells Russian tourists to 'smile more'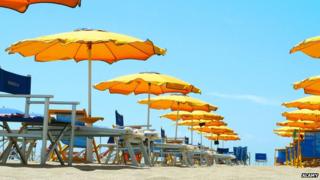 An Italian hotel boss has filmed a TV advert apparently giving etiquette tips to Russian tourists, in a bid to improve relations with the locals, it's been reported.
The advert is intended to help Russian tourists integrate in the Tuscan seaside resort of Forte dei Marmi, where they've apparently gained a reputation among locals for being arrogant, La Repubblica newspaper reports. "Please smile more," says the advert, filmed by Salvatore Madonna, head of the luxury hotel group Soft Living Places. "If a dish or service pleases you, show your satisfaction by saying thank you - not just leaving a big tip." In 2010, La Stampa reported the area had become popular with wealthy Russians, with one group leaving a tip of more than 4,000 euros for waiters at a local restaurant.
The hotelier's commercial stars Russian model Ljudmila Radcenko and is set to be broadcast on Russian television and social networks. Other tips include telling Russian tourists not to have a cappuccino after lunch, since it is traditionally a morning drink in Italy, with the stronger espresso preferred later in the day.
But Madonna says that while he hopes the advert will help Russians integrate better on holiday in Italy, he also thinks it could encourage more people to choose the region for their visits abroad. "We don't want to teach anything to anyone, only to give some advice to allow better integration," Mr Madonna says.
Use #NewsfromElsewhere to stay up-to-date with our reports via Twitter.