Russia: Boy invents 'lard-o-meter' to measure pig fat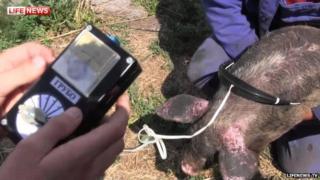 A Russian schoolboy has invented a humane device to measure how fatty pigs are, it's been reported.
Aydar Minibayev, 12, says he spent three years making the Shpikomer - which translates as "Lard-o-meter" - as part of a school science project, the LifeNews website reports.
It works by measuring the resistance to an electrical current running through a collar around the pig's neck. Aydar says because fat has great resistance, and meat almost none, he can measure the thickness of the fat without causing the animal pain. "Previously fat thickness was measured in pigs by cutting into it then popping it back in," he tells the website. "This is very cruel."
Aydar's invention exceeded his teachers' expectations, according to the school's headmistress, Olga Miromanova. "All pig farmers ask themselves - have I over-fattened my animal? This remarkable device solves that problem humanely," she says.
It's thought the invention could benefit shoppers who dislike fatty meat. But in Ukraine it could be popular for the opposite reason, as pork fat, known as salo, is considered a great delicacy, says the Ridus news website.
The young inventor now plans to launch his Lard-o-meter into mass production. Until then, he's using it to help neighbours choose a pig for the festive table.
Use #NewsfromElsewhere to stay up-to-date with our reports via Twitter.