New Zealand: Maori heir at centre of controversy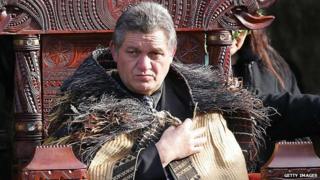 A video has been released in New Zealand showing an expletive-filled rant by one of the Maori king's sons.
Korotangi Paki, the second son of King Tuheitia, is apparently seen in the two-year-old video clip swearing at classmates, the New Zealand Herald reports. The clip was uploaded onto a Facebook page set up to express anger at the 19-year-old, who recently escaped jail on burglary and drink-driving charges.
The Facebook page, titled "Send the Maori king's son to jail" has attracted more than 25,000 likes. After the now-deleted video was shared on the page, its administrators warned members to avoid posting racist views over the treatment of the king's son: "We do not promote racism nor have we expressed racist values... This page is for people to understand that injustice is common over all aspects of New Zealand's judicial proceedings." However, royal advisor Kirk MacGibbon was angry at the emergence of the clip after two years, saying, "This has turned into a smear campaign. The person who released it has done it for his own purposes."
A former Maori affairs minister told 3News TV he thought the judge acted leniently because Paki would need an unblemished criminal record if he were to ascend to the throne. . Dover Samuels said the decision to leave the king with "the widest possible choice" for his heir "wouldn't go down well with some of my nephews (in prison)". Meanwhile, legal reform group Rethinking Crime and Punishment said that Paki's "public shaming" was punishment enough for the young man.
The affair has led to "family crisis talks" over the 19-year-old who is to become a father later this year, the Stuff.nz news website says.
Use #NewsfromElsewhere to stay up-to-date with our reports via Twitter.