Belarus leader switches to state language from Russian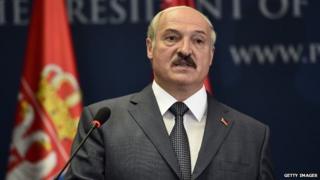 Belarusian President Alexander Lukashenko prefers to speak Russian in public, but recently delivered a key speech in the long-neglected Belarusian language. Does this mean he's turning his back on the Kremlin?
Often dubbed "the last dictator in Europe", Mr Lukashenko has marginalised Belarus during his 20 years of authoritarian pro-Russian rule, and generally uses it only to mock the nationalist opposition. So his speech in Belarusian on the eve of Independence Day set many observers wondering whether he's decided to rehabilitate national pride. It wasn't just the language he spoke, but what he said - warning that those who "encroach on the unity of the nation" are enemies, whether they come from the West or the East.
Alexander Yarashevich writes in the opposition Belorusskiye Novosti newspaper that Mr Lukashenko is "scared by Russia's annexation of Crimea and intervention in eastern Ukraine", and is trying to distance himself from Moscow through "soft Belarusification" - especially as recent opinion polls show growing aversion to union with Russia. Mr Yarashevich said a statue to the 14th Century Lithuanian hero Grand Duke Algirdas, unveiled in Vitebsk last month, annoyed pro-Russians (Algirdas frequently besieged Moscow). Local governor Alexander Kasinets praised the grand duke for laying the "foundation stone of Belarusian statehood" and made it clear that the president approved of the statue.
Most analysts agree nonetheless that this is a tactical move, rather than a change of presidential heart. Opposition leader Alexander Milinkevich welcomed the speech, but said "so far it's just a trend, not a strategy". Writer Yury Drakakhrust agrees, saying Mr Lukashenko played up national sentiment during previous rifts with Russia, only to return to his usual pro-Kremlin rhetoric later: "Lukashenko is trying to amalgamate Soviet and non-Soviet Belarus, picking and choosing as he goes along." Mr Drakakhrust adds that the president's rule remains a "trap for Belarusian statehood".
Use #NewsfromElsewhere to stay up-to-date with our reports via Twitter.