Austria: Police tell nude female cyclist to wear clothes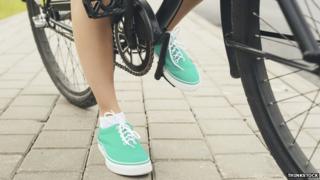 Police in Austria have warned a young woman to stop shopping naked while on her cycling holiday, it seems.
Austrians are generally relaxed about nudity in parks and on beaches, but not so elsewhere. People complained that the blonde woman had dropped by a petrol station and tobacco shop in the town of Pernitz, Lower Austria, wearing "little more than white trainers and a friendly smile". Apparently, whenever people approached her she fled, the Oesterreich tabloid reports.
Austrian papers have been trying to track down who the woman is. The Kurier got a tip-off through a YouTube clip that went viral from the nearby town of Pottenstein, showing the same woman leaving a cake shop - also in the nude. The shopkeeper couldn't see what all the fuss was all about. "She's dropped by two or three times, I don't think it's a big deal," says Gabriela Leithner. "She's not done anything wrong. We had a naked man in here the other day," she laughs.
But Pernitz police chief Harald Windbichler is less amused. When he almost stumbled over the nude cyclist on a country road while carrying out a routine speed check, he gave her a verbal warning for "breach of public decorum". The policeman let her ride on, but told her that she faces a 1,000 euro (£794; $1,340) fine next time. "You could buy an entire wardrobe for that", mused Oesterreich.
Use #NewsfromElsewhere to stay up-to-date with our reports via Twitter.