Malta: Private migrant rescue boat saves fisherman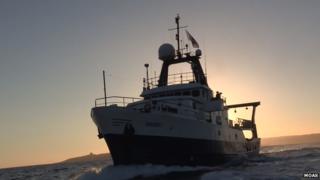 A private ship patrolling the Mediterranean to help immigrants in distress has made its first rescue, but the people saved were local fisherman - not migrants - it's been reported.
The Malta-based Migrant Offshore Aid Station (Moas) picked up a Maltese fisherman and his five-year-old son, whose craft was drifting off the island's east coast after its engine failed, the Times of Malta reports. Moas' 40m vessel - the Phoenix I, equipped with RIB dinghies and drone helicopters - had just left Valetta's Grand Harbour on its first 20-day mission when the situation came to their attention.
Maltese philanthropists Regina and Christopher Catrambone, who are funding the operation, say they are the first civilians trying to assist migrants at sea, Malta Today reports. Moas was set up in response to the October 2013 Lampedusa shipwreck tragedy, when around 360 African migrants died after their boat sank off the coast of the Italian island. Deaths are often reported in the area, and just last weekend nearly 4,000 people were rescued. The Phoenix I and its drone helicopters will watch for craft leaving north Africa for Europe, and offer water, food, life-jackets and first aid if necessary.
Aware of criticism that they could be encouraging migrants, the Catrambones say they are simply heeding a call by Pope Francis to save lives. "No one deserves to die at sea," they say.
Use #NewsfromElsewhere to stay up-to-date with our reports via Twitter.