Japan: Parents fork out for fine dining lessons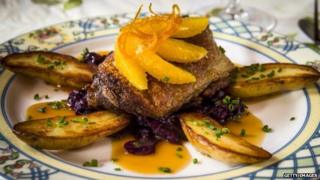 Lessons on French table manners are proving to be a hit with Japanese parents who have little time to practice fine dining at home, it's reported.
Parents are signing up their children for classes on how to handle a full course of French cuisine in luxury restaurants in Tokyo's exclusive Ginza district, the Mainichi Daily says. One mother tells the newspaper she is worried her nine-year-old son could get confused about the cutlery at a wedding or another formal occasion. "I can teach him the correct way to hold chopsticks at home, but I don't have the opportunity there to teach him about manners at a full course meal," she says.
Certified table manner teachers instruct the children not to stand up during dinner, not to request a wet towel, and to make sure their knife blade is facing inwards after a meal to show that they enjoyed it. Demand is rising steadily for the classes - which can cost up to 7,000 yen (£40 or $65) for children - in other major cities like Sapporo, Nagoya and Osaka, the paper says.
Parents are also concerned that traditional Japanese table manners may be slipping. A children's picture book explaining correct etiquette called Tehburumanah no Ehon is selling well, says the president of book's publisher Shinichi Yamaura. The book covers topics like the proper way to eat at a conveyor-belt sushi restaurant. "I didn't think it would do so well," Yamaura says. "There are more opportunities now to eat out, and even adults can be confused, which is why I think our book is sought after."
Use #NewsfromElsewhere to stay up-to-date with our reports via Twitter.