Indian TV sacks newsreader for 'Eleven Jinping' gaffe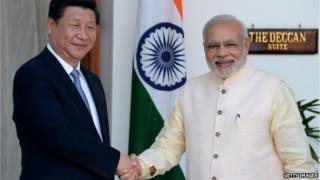 India's public TV channel has sacked a newsreader for slipping up over the name of visiting Chinese President Xi Jinping - apparently mistaking his surname for the Roman numeral XI, and calling him "Eleven Jinping" on air.
Xi's visit is a big deal for the Indian government, and Doordarshan TV sacked the anchor quickly. "It's true we have sacked the concerned newsreader," Jawhar Sircar, head of the Prasar Bharti public broadcaster, tells the Quartz news website. "We are putting systems in place to make sure such things don't happen in future."
But the Indian press has been critical of the move. The Indian Express says many late-night newsreaders are inexperienced casuals, as the "regulars do not like to be working at the time", and Quartz says the Indian media often mix up East Asian names without feeling the need to sack their reporters. Meanwhile, the dna news site notes that Doordarshan programmes are "often a matter of public ridicule for their poor production quality".
Social media users sympathise with the unnamed newsreader, and criticise Doordarshan for penalising her while leaving her managers alone. "The silver lining is that at least the anchor knows Roman numerals," one Twitter user quips.
Use #NewsfromElsewhere to stay up-to-date with our reports via Twitter.