Sweden: Home-made submarine auctioned for $100,000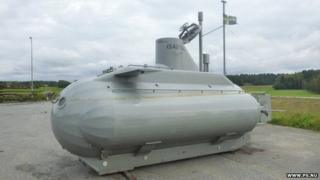 A Swedish man's home-made submarine has been sold at auction for $100,000 (£60,000).
Smith Eric Westerberg, from Umea, built the eight-tonne, 6m (18ft) "Isabelle" from scratch between 2005 and 2007, putting in an estimated 3,500 hours of work, Radio Sweden reports. Westerberg tells the PS auction house that he used "common sense" in the design after drawing a blank searching the web for blueprints. He says that he sold it because he no longer has the time to take it out for a spin himself. "It's fine to a depth of just over 10m (30ft)," he says. "It's hard to navigate down there but it's well-built and can take it if you bump into something."
The novelty lot apparently attracted interest from Dutch, German and Russian buyers before being bought by an unnamed entrepreneur from Sweden. It's not known what use the vessel - maximum speed: four knots (7km/h, 5mph) - will now be put to. Asked whether he'd had any interest from the military, Westerberg tells the Norra Vaesterbotten daily: "No, but maybe Putin or Obama will get in touch." He adds that has more ideas up his sleeve. "But I'm keeping them to myself for the time being."
Use #NewsfromElsewhere to stay up-to-date with our reports via Twitter.