Jordan: Israeli spy equipment from 1960s unearthed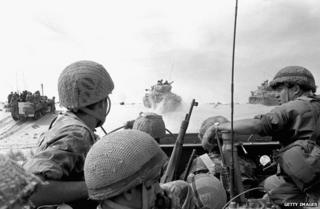 Jordan says it's unearthed hidden Israeli spy equipment and explosives dating from the late 1960s.
The surprise announcement was made when Jordan's army chief, Gen Mashal Mohammed al-Zaben finally revealed the purpose of a mysterious dig that's been the subject of numerous rumours for more than a year, the Jordan Times reports. The secretive excavation, near the northern town of Ajloun, had prompted speculation in the Jordanian social media that archaeologists had uncovered Roman or Greek remains, and possibly even treasure worth billions.
But according to Gen Zaben, the dig's aim was part of a wider operation to excavate and neutralise Israeli spying devices and explosives planted across Jordan in 1969, in the wake of the 1967 Arab-Israeli War. He says the military was alerted to the sites after investigating a huge blast caused by some of the hidden explosives in the Mafraq area in January 2013. It then launched a nationwide survey, and - with the help of information provided by Israel - found five similar sites, including Ajloun. The job there was apparently the most complex, and Jordan had to take the unusual step of asking for a Israel to send in a team with special equipment to help carry out controlled night-time explosions, according to Ammon News.
Use #NewsfromElsewhere to stay up-to-date with our reports via Twitter.