Thailand to invite tourists to experience martial law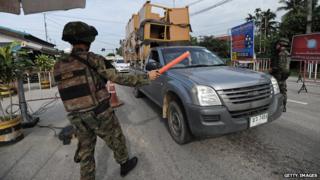 Officials in Thailand say they are preparing to add martial law to a list of tourist attractions, reports suggest. This follows calls by local tourism groups which insist that martial law needs to be lifted in order to halt the decline in the number of visitors to the country.
The Tourism Authority of Thailand (TAT) is preparing a campaign called 24 Hours Enjoy Thailand to attract foreigners to visit the country under martial law, says TAT governor Thawatchai Arunyik. According to the official, martial law actually benefits tourism because it ensures that foreigners are safe round-the-clock, Khao Sod newspaper reports.
"We want the tourists to be confident that they can travel in Thailand both day and night with safety at all times," Thawatchai Arunyik said, adding that he hopes to promote this concept by creating a "buzz" on social media.
The initiative comes amid calls by Thai tourism groups for martial law to be lifted altogether. "Foreigners are still unsure about their safety in the country and feel uncomfortable about coming here at a time when martial law is in force. The only way to return confidence would be to lift this law," says Sisdivachr Cheewarattanaporn, president of Thai Travel Agents Association, according to The Nation newspaper.
Tourist arrivals dropped 7% in September from the previous year, following a drop of 11.9% in August. But Prime Minister Prayuth Chan-ocha on 7 October dismissed calls to lift martial law, saying it would continue until sweeping national reforms are in place.
Following months of tensions between the government and the opposition, the Thai military imposed martial law in May 2014 "to preserve law and order".
In a report marking 100 days since the military takeover, Amnesty International criticised the move. The human rights group said martial law created a climate of fear by banning free speech, gatherings of more than five people, literature such as George Orwell's 1984 and the eating of sandwiches in public - which at one point became a symbol of peaceful protest.
Use #NewsfromElsewhere to stay up-to-date with our reports via Twitter.