Ukraine: Winter gas supply fears prompt plant sell-off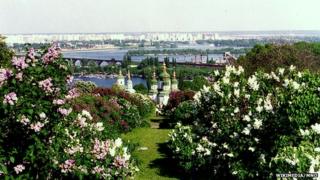 The botanical gardens in the Ukrainian capital Kiev are selling off tropical plants at knock-down prices ahead of an expected energy crisis this winter.
Hryshko National Botanical Gardens announced the sale on its website, with plants on offer for 15 to 85 hryvnyas ($1.14-$6.46; £0.70-£4). It blames the worsening economic crisis and fears of a hard winter. "This has forced us to close some greenhouses, reduce the heated areas of others, and cut our plant collection," the statement says. There are concerns over winter fuel availability in Ukraine, as Russia is threatening to cut the gas supplies on which the country depends.
The plants are apparently resistant to parasites and some are touted as having "wonderful medicinal properties". To safeguard the site's varied collection, botanists have chosen species that it already has in sufficient numbers. But a range of "decorative, environmentally-sustainable tropical and subtropical plants" are on offer, including palm trees, rubber plants, aloe and papaya. Some are even small enough for a window box, the statement adds.
The sell-off has been met with dismay on social media, with some Facebook users offering to chip in to help the gardens. Another user, Oksana Haluha, suggests "taking the plants home temporarily and then bringing them back in the spring". Ukraine is suffering a protracted economic crisis, caused mainly by political instability following the mass protests that ousted pro-Russian President Viktor Yanukovych in February, and Russia's subsequent annexation of Crimea and support for insurgents in the east.
Use #NewsfromElsewhere to stay up-to-date with our reports via Twitter.