New Zealand: Prisoners offered cut-price tattoo removal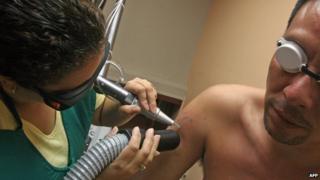 Prisoners in New Zealand are being given the chance to have tattoos removed, as long as they pay for the cut-price service out of their own pockets.
Aimed at stopping convicts from re-offending, the "in-house" removal sessions erase visible tattoos from faces, necks and lower arms at a cost of NZ$30 per session (US$23; £15), the New Zealand Herald reports. It's being offered inside Auckland Prison and Auckland Region Women's Corrections Facility by a not-for-profit community health trust, which says the removals will help former convicts to find work after their release. Depending on the artwork, it can take four to six sessions to have a tattoo removed, regional corrections commissioner Jeanette Burns tells the paper.
A previous scheme was terminated in 2006, when it emerged a man jailed for stabbing a police officer had facial tattoos removed at a cost to the taxpayer of NZ$4,500 (US$3,500; £2,200). Under that scheme, prisoners had to be escorted to an outside facility to have the work done. "Bringing the clinic to the prison alleviates a lot of risk," Ms Burns says. It's also reportedly cheaper; outside of prison, tattoo removal can cost NZ$100 per session, according to the Stuff.nz news website.
Auckland's inmates won't be the first to benefit from tattoo removal. Convicts in Los Angeles are offered a similar service to remove body art which identifies them as gang members, the Huffington Post reported in 2013. The difference is that the American prisoners have the procedure carried out for free.
Use #NewsfromElsewhere to stay up-to-date with our reports via Twitter.