Turkey: Plastic bag campaign to find missing children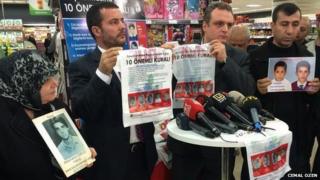 Plastic bags used by customers at a supermarket chain in Turkey will soon bear the photos of missing children.
Three million of the carrier bags have been produced featuring the faces of five missing children, the Daily Sabah website reports. The bags also carry a list of 10 warnings for parents, urging them to remain vigilant over their children's safety. It's part of a project being run by the Association of Families with Missing Relatives (YAKAD), and the bags will be handed out in 76 Onur supermarkets in Istanbul and three northwest provinces, the report says. The supermarket chain has also pledged to use its online presence, including social media, to raise awareness. Reports on the number of children missing in Turkey vary, but in April Today's Zaman newspaper cited official figures saying more than 14,000 children had gone missing in the past five years. The majority of them were subsequently found.
Turkish police now have a unit dedicated to investigating missing children cases. They also recently launched an alert system which sends details of a missing child to nearby mobile phone users, the Daily Sabah says, similar to the Amber Alert system in the United States.
Use #NewsfromElsewhere to stay up-to-date with our reports via Twitter.