Finland: Schoolgirl applies for council leader job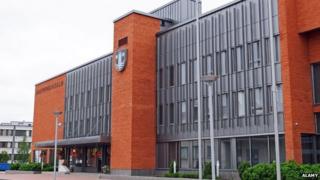 A 10-year-old girl has applied to become a town council leader in Finland, it's reported.
Primary school student Mili Kasurinen wants to head the council in Kemijarvi, the country's northernmost town, the Yle news website reports. She's up against 18 adults for the job, but tells Yle her application is as serious as all the others. "I made it clear that this is not some sort of joke to be laughed at," she says. "I asked them to read my application through to the end." Her ideas to revitalise the finances of the town include creating an online teaching system to educate children from home, which could be sold to other municipalities. Asked how a 10-year-old could balance work with education, Mili says she would go to school for half the day, then "run down to the town hall and start working hard there too". And as a part-time worker, she says she'd also accept half the advertised salary.
Her ambition has been greeted warmly by many commenting on the story in Finland. "I am raising my hat to you. This is exactly the future for Finland," says user Matti57 on the Kaleva newspaper website. "If we had young people, really young, in every county's decision-making bodies, the world may look like a different place." Another says: "Excellent, Mili. I would vote for you if I could." But Mili herself isn't keen on filling the council with people of her own age. "If everyone was aged 10 to 15, the whole thing would go a bit loopy," she says.
Use #NewsfromElsewhere to stay up-to-date with our reports via Twitter.