Spain: Artist unveils royal portrait after 20 years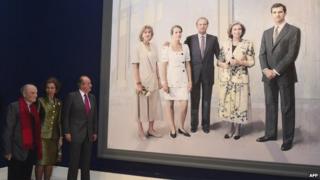 A portrait of the Spanish royal family which took two decades to complete has been officially unveiled at the Royal Palace in Madrid.
Artist Antonio Lopez, known for his meticulous approach to work, says the painting took so long because he's used to working on several pieces at once. "I wouldn't want you to think I'm lazy", he jokes in an interview with the Spanish daily El Pais. The life-size canvas shows former King Juan Carlos and Queen Sofia with their children, King Felipe VI and Princesses Elena and Christina. The painter hasn't quite caught up with the royal family's most recent changes, so Queen Letizia doesn't feature. Mr Lopez says he never felt any pressure from the royals while painting, and that they just asked to be "portrayed like a Spanish family. Nothing more". But he admits that while the criteria and composition didn't change much over the years, he did get "stuck for a while on the clothes".
Jose Rodriguez-Spiteri, the president of Spain's National Heritage, which commissioned the portrait, says when King Felipe finally got to see the finished product, he declared: "We are all how we were 20 years ago!" In September, Mr Lopez told El Pais that he visited the Royal Palace every day for five hours to paint. "I do what I can, bearing in mind the difficulties the commission involves," he said. "It's a wonder I haven't ended up hating the thing."
Use #NewsfromElsewhere to stay up-to-date with our reports via Twitter.