Canada: Reward doubled over potato needle sabotage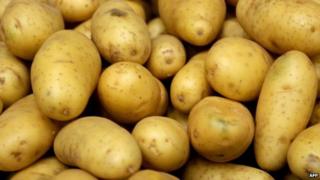 Police in Canada are trying to solve a case of potato sabotage, as sewing needles keep turning up inside the spuds, it's reported.
A reward for information over the crime has been doubled to 100,000 Canadian dollars (US$87,000; £55,000), according to the The News website. Needles were first found in the potatoes at the start of October, and the Royal Canadian Mounted Police says it seems they were shoved into the flesh deliberately. Ten affected potatoes have been found so far, all of which came from the same farm in the eastern province of Prince Edward Island. An initial cash reward of 50,000 Canadian dollars didn't help solve the case, so the region's potato industry and local government have upped the amount, and say even anonymous tips will be eligible for the reward.
"If there is anything good that can be said to come from this mess, it is the sense of solidarity everyone has shown us," Gary Linkletter, who co-owns the farm at the centre of the case, is quoted as saying. "Hopefully the reward will help to identify the culprit and bring this tampering episode to an end." The case triggered a huge recall of about 800,000lb (363,000kg) of potatoes in the region, and prompted an investigation, which used X-Ray machines and metal detectors to try and track down the suspect potatoes, the National Post website reported in October.
Use #NewsfromElsewhere to stay up-to-date with our reports via Twitter.