Russia: TV astrologer predicts rouble will hold out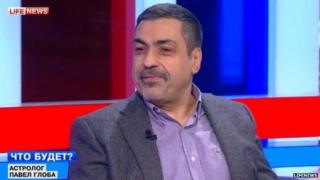 The Russian media are full of financial experts trying to explain the sharp fall in the rouble exchange rate, but one pro-Kremlin channel is predicting better times ahead - with the help of a top astrologer.
Pavel Globa, whose public career of sometimes wayward political predictions dates back to the Soviet era, tells LifeNews TV viewers that the rouble won't fall below 100 to the euro and the economy will recover by 2017. "We won't see a default in 2015, although next year won't be easy for us," he says, while repeatedly pointing out that he is "no expert on exchange rates". Mr Globa has made something of a comeback in pro-government media this year because of his 2009 prediction that Ukraine would disintegrate into three separate states.
He says the current world economic crisis began with a 20-year cycle in 2000, the year Presidents Bush and Putin were elected. All of this will end by 2020 "thanks to the conjunction of Jupiter and Saturn", Mr Globa tells viewers, although he's uneasy when the LifeNews hosts remind him that he once predicted a possible third world war in 2014. "It began, but it is a cold war," he insists. Despite his popularity among some TV bosses, social media users are almost entirely derisive. "This moonstruck charlatan was saying the opposite at the start of the year," complains one person on the LifeNews website. "Let's have a witch-doctor with some drums on next," another suggests, which receives the response: "Don't worry, that will happen."
Use #NewsfromElsewhere to stay up-to-date with our reports via Twitter.