Japan: Family tends to Briton's grave for 143 years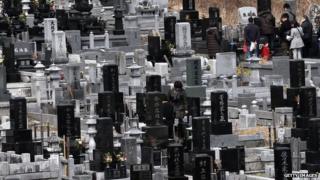 The British Embassy in Tokyo has formally thanked a Japanese family for tending to the grave of a British teacher for 143 years, it's been reported.
Five generations of the Murai family have looked after the grave of Bernard George Littlewood, today located in the city of Kaga, The Asahi Shimbun website reports. Mr Littlewood had been in Japan to teach English, and died of smallpox in what is now the central Ishikawa Prefecture in the 1870s. With nobody responsible for looking after the grave site following a change in local governance, the Murai family took over because it was close to their own family plot, the website says. In early December, they were given a letter signed by the British ambassador to Japan, Timothy Hitchens, thanking them for their kindness. Kumiko Murai, 81, says she was "speechless" after receiving the letter, noting that the family continued to look after Mr Littlewood's grave through World War II, when Britain and Japan were enemies.
But they didn't know his true identity until recently. In the 1960s the occupant of the grave was identified as Philip Ward, an error put down to local confusion over the kanji characters inscribed on the tombstone. After extensive research by Susumu Koyata, who heads an international exchange group in Kaga, the grave was identified as belonging to Mr Littlewood, the website says.
Use #NewsfromElsewhere to stay up-to-date with our reports via Twitter.