Finland: Alcohol prizes banned in pub quizzes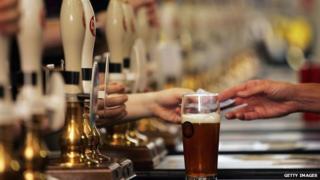 Pub quiz winners in Finland used to look forward to a few free pints for their efforts, but new alcohol laws mean that's now a thing of the past, it's been reported.
Street advertising and social media adverts for alcoholic drinks have been outlawed, and alcohol can no longer be given away in competitions, national broadcaster Yle reports on its website. The new rules are meant to prevent adverts being seen by people who are below the legal drinking age of 18, but it has left the owners of the country's watering holes wondering how to reward victorious quiz teams.
One pub in the northern city of Oulu hasn't come up with a replacement yet, and the lack of prizes at the year's first quiz didn't go down too well with customers. They "moaned and whined a bit," quiz host Miku Mertanen tells Yle. The pub's owner is worried the move could hurt business in the meantime, and notes that pubs and bars don't admit underage drinkers anyway. While some Finnish social media users think the new alcohol rules are a good idea, with one person describing it as "common sense", many say it's a step too far. "It's ridiculous to try to control every little thing by legislating," says one user on the Kauppalehti newspaper website. Another person is clearly unimpressed, writing: "Next they are going to ban farting in public places."
Use #NewsfromElsewhere to stay up-to-date with our reports via Twitter.