China: Police force issues movie-style adverts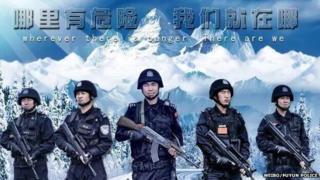 A police force in China has unveiled new adverts, and seems to have taken inspiration from the action movie genre.
The posters for the force in Fuyun County, northwest Xinjiang Province, show officers holding guns in front of what appear to be artificial backgrounds. "Wherever there is danger, we are there," reads the Chinese text of one, above an image of five armed officers and a snow-covered mountain range. Despite the somewhat creative designs, an accompanying note on an official police Weibo social networking page says: "This isn't for show, this isn't staged, this is the real scene from their training."
That claim is roundly mocked by social media users, who are overwhelmingly of the opinion that the adverts were staged. "I am full of respect for the police, but this isn't staged?!" says one Weibo user. "This isn't for show... are you insulting my intelligence?" asks another. But there is one section of the audience which seems to appreciate the adverts' action man theme. "Heroes and hot men! Like like like!" says one woman, posting a kissing emoticon afterwards. Another simply observes: "They're so handsome." The Fuyun Police may have been inspired by another force. In July 2014, police in Chengdu, south-west China, posted recruitment adverts which included one officer doing a high-kick, and another posing with a crossbow.
Use #NewsfromElsewhere to stay up-to-date with our reports via Twitter.