Iran: Cleric causes a stir in bright yellow outfit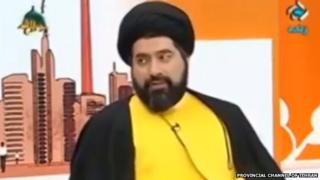 An Iranian cleric has raised eyebrows in Iran by appearing on television in a bright yellow outfit.
Hoseyn Khademian appeared on state-run television wearing a yellow shirt, shoes and even a yellow watch, the Mehr News Agency reports. Iranian clerics usually dress conservatively in a white shirt and darkly coloured cloak, with black or brown shoes, and Mr Khademian's bold choice was mocked by Iranian social media users. While some people accused him of seeking publicity, others' minds turned to a familiar type of fruit. "A combination of black and yellow, exactly like an old banana," says one person on Facebook, while someone else compares him to a canary. "He would have looked more attractive if he had gone for a pink turban as well," says another user.
While his appearance has made headlines in Iran, Mr Khademian says he can't see what all the fuss is about, as it's not the first time he's bucked the sartorial trend. On a previous occasion he appeared on TV in a pink outfit and "no drama was made". "Compared to that, the colour of my outfit is nothing new," he says. "Besides, yellow is as natural as any other colour."
Use #NewsfromElsewhere to stay up-to-date with our reports via Twitter.